ISO 17025 or ISO 9001: Which one is better?
As a calibration company, we are sometimes asked which is better ISO 9001 or ISO 17025 certification. That really is the wrong question.  Both of these International standards are excellent.  The reason we said it is the wrong question is that they each have a particular focus. What is the difference between ISO 9001 and ISO 17025?
ISO 9001 is a standard designed for the manufacturing and service sector and focuses the Quality
Management System towards those major groupings.
ISO 17025 is focused on calibration and testing. You will see many similarities in the Quality Management System of both standards.
All the technical journals are writing about the changes in ISO 9001 that are scheduled to roll out this year. One key aspect being discussed is Risk Management. The paradigm changes in ISO 9001 are already being discussed in regards to ISO 17025.
Let's take a side by side look.
ISO 9001
ISO 17025
Section 1
Scope
Scope
Section 2
Normative References
Normative References
Section 3
Terms and Definitions
Terms and Definitions
Section 4
 Quality Management System
 Management Requirements
Section 5
 Management Responsibility
 

Technical requirements

Section 6

 Resource Management

 NA
Section 7
 Product Relaxation
 NA
Section 8
 Measurement, Analysis and Improvement
 NA
Both standards address:
Document Control
Service to the Customer
Corrective Action
Improvement
Management Reviews
Control of Data
A few key differences between ISO 17025 and ISO 9001.
1.ISO 17025 requires a demonstration of technical competence.
2. ISO 17025 requires traceability of measurements to standards.
3. ISO 17025 requires the application of measurement uncertainty.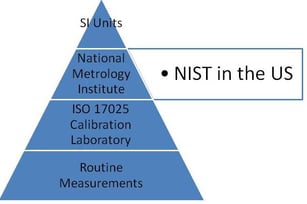 Which one is better? Still not the right question.  They are different.